Ephemera
None of these were intended to last very long..!
Incidentally, I'm surprised at how many spelling mistakes and typos I've found in these. I know spell checkers existed in 1986..
Prestel Offline

Prestel Offline was a single sheet newsletter enclosed with the quarterly bill. I'm not sure how many were produced, but July '87 was the last one. The April 1986 issue also includes a separate newsletter from Micronet 800.
Prestel Travel News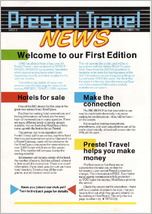 Issue 1, November 1986


download pdf - view online

If you ever wanted to put a face to a name at Prestel Travel, then this is the newsletter for you!
Prestel CitiService "CitiNews"
LogOn - The Magazine for Micronet Members
Many thanks to Ant and Roger for supplying these.
Collectibles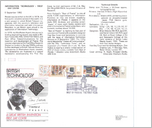 First day Cover 1982


download pdf - view online

I used to be a stamp collector in my childhood. I never even knew this existed. Prestel got it's own stamps!